Verona Shore Excursion
Verona is the second biggest city in Veneto region and its past as a major Roman town is still visible today making it the Italian city with the most important Roman ruins in the ancient center, after Rome itself.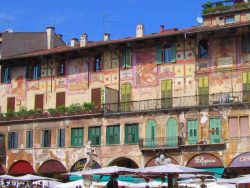 Verona is the ideal city for tourists, being it full of beautiful places to visit but not overflowing with tourists such as Venice. The two most important tourist attractions of Verona are the Arena, a Roman amphitheatre, and Piazza delle Erbe with its picturesque market.
Verona Arena is the third-largest Roman amphitheater in Italy, therefore in the world. Verona Arena was big enough to accommodate the entire population of Verona in the first century AD and people from everywhere in Veneto came to this amphiteater to watch gladiators combat against each other or with animals while today Verona Arena is famous for opera performed outdoors in the summer months
Would you like to visit an ancient Roman market? Do you think it is impossible? Not really. Piazza delle Erbe is named after the herb market and this square has been used as a marketplace for more than two thousand years and the statue on the fountain if from the Roman period. Other interesting attraction in Piazza delle Erbe are the Casa dei Mercanti and Palazzo Maffei.
You cannot leave Verona without visiting Juliet's house, a short stroll from Piazza delle Erbe, and see the balcony that Romeo is said to have climbed to reach his love Giulietta. This tragic love story of Romeo and Juliet was made famous by William Shakespeare and thousands of tourists visit this house every year making of Verona the city of love by antonomasia.
After a nice lunch in Verona, back to our Mercedes-Benz car or minivan and head towards Padua, last stop before returning back to Venice port and end this full-day shore excursion.
Padua Shore Excursion
Padua is the third city for importance in Veneto, rich in history and art with the second oldest university in Italy, having had Galileo Galilei as a lecturer.

Padua's top attraction is the Cappella degli Scrovegni, a chapel whose inside is completely decorated with frescoes depicting the life of Jesus Christs, a masterpiece painted by Giotto, the Florentine artist that marked the beginning of Renaissance in figurative arts. Due to the Cappella degli Scrovegni's small size, the number of visitors allowed in is limited and the visit itself is limited to fifteen minutes. Booking in advance is absolutely necessary if you want to visit the chapel and reservation can be easily done online at the official website of Cappella degli Scrovegni or by phone.
Let's now explore one of Italy's most important churches: the Basilica of Saint Anthony of Padua. The exterior of the Basilica di Sant'Antonio will surprise you with its Byzantine appearance, so much so that you would think of being in Constantinople, and beside the entrance there is the statue of Gattamelata, a great work of Renaissance.
After a last walk in the streets of Padua, our driver will bring you back to the port of Venice and drop off will be at your cruise ship.